Here are ten everyday tips any of us can do to lower our expenses.
1.> Turn down your furnace in winter and your air conditioning in summer.
In the winter, put on a sweater and some thicker socks. In the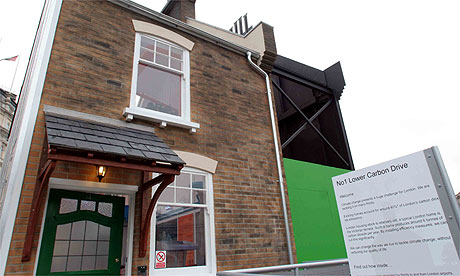 summer, use electric fans as opposed to the air conditioner.
2.> Turn off unused lights!
The average electrical bill is about $0.12 per kilowatt hour. The amount of energy used by the average light bulb is pretty low, but if you have a light fixture with two 100w bulbs running 10 hours a day costs you $88 per year.
3.> Avoid using the dryer and hang your clothes to dry.
A family of four with 3 loads a week and using mid-efficient dryer using 2.75 KWH will pay $52 in electricity.
4.> Get rid of the old fridge in your garage.
Especially if you are not using it. It will consume power and is not as efficient as newer models.
5.> Turn off the TV, computer, and any other appliance if you are not using it.
Hey is no one is watching the TV no one should pay for the hydro. Right?
6.> Wash your clothes in cold water
Many detergents today work just fine in cold water. Save yourself the cost to heat the water.
7.> If you have to go out, combine all of your trips at once.
This will reduce the number of times you start and stop your vehicle and will save you gas.
8.> Get rid of excess TV channels.
Do you really watch all of them? The cable and satellite companies will often let you pick the channels you really want and add them instead of buying a bunch of unwanted channels.
9.> Get rid of the extras on your phone and cell phone
If you don't use voicemail, caller id, text messaging, internet or whatever then get rid of it.
10.> Trim The Excess Fat From Your Expenses: We all have things we buy that we don't necessarily need or are not doing anything for us. BankRate.com offers a list of Top 10 money drains. Consider what it these cost:
Coffee – If you head to your favorite coffee shop every day before work you're spending $390 a year. Make a cup of coffee at home and take it with you!
Cigarettes – You will save more than $1,600 per year by quitting.
Alcohol – Save your consumption for special occasions. A trip to the bar after work every day for a couple of beers will cost you over $500.
Bottled Water From Convenience Stores – This is my personal pet peeve. I understand that from time-to-time you need to get water and bottled is just convenient. But a bottle of water a day will cost you over $500 per year not to mention what the plastic does to our landfills.
Manicures – Weekly manicures will cost over $1,000 per year.
Car Washes – Save about $350 per year doing it yourself.
Weekday Lunches Out – A daily lunch trip will cost you $2,350 per year (I admit I am bad on this one and I freely admit it although I don't go daily).
Vending Machines Snacks – Spend a dollar a week day is $260 per year.
Interest Charges On Credit Card Bills – If you have $6,000 of credit card debt you are spending over $800 a year on interest. Compare that to what you could save by using your credit card as a float.
Unused Memberships – Not using that $40 per month gym membership? It's costing you $480 per year.
Print This Post